It is time to tear up your game, not the Field!
Few sports can even compare with the brute force and fighting spirit of Football. It is a real American tradition with an influence that reaches all the way around the globe,creating rabid fans every step of the way. It even rivals sports like baseball and soccer in its ability to balance an environment of competitive play with an exciting spectator experience.
If you have ever seen a game played on a natural grass field or on old and worn-out synthetic turf, you know that just one game can totally obliterate that playing surface. This eventually leads to playing surfaces that are uneven, ugly and slippery in rain and snow. All of these things present an increased overall risk of injury. The good news is that there is a definitive solution to these and the many other issues that can arise just out of the normal pace and play of a game of Football, and lies in modern turf technology.
 The new generation of Turf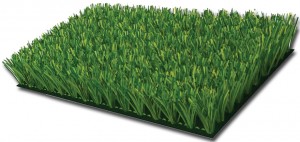 Artificial turf today is both rugged and durable. It can stand up to some of the worst punishment a pro athlete can throw at it. Continuously-evolving technology and a proper playing surface can create a real recipe for excitement and action. The technology also creates a safe environment that is aesthetically pleasing and can take a beating again and again while still providing season after season of low-maintenance entertainment for the fans and a consistent challenge for the players.
Request free guide
There is a lot to think about when you decide to purchase a new synthetic turf field. Request the free checklist with the top 7 points to consider below.
The power of
new generation turf
Today's artificial turf is rugged and durable. It stands up to some of the toughest punishment an athlete can give it. Couple the ever-evolving technology with the right kind of playing surface and you have the right recipe for action and excitement in an environment that is safe, aesthetically pleasing and able to take a real beating over and over again and still provide years of low-maintenance enjoyment for fans and consistent challenge for players.
GreenFields Products
Select one for more information:
Handles your heaviest traffic with comfort, safety, resilience and extraordinary durability.
Committed to improving and evolving
At GreenFields, we stand committed to always improving and evolving so, with our help, your game can as well. We don't just offer the single highest-quality synthetic turf available anywhere on earth, we merge it with the expertise afforded by years of experience and research in what we believe is the true art of athletic field construction. Some of the benefits of having your field designed and built by GreenFields include:
A low-friction play environment that reduces injury and enhances the play of the game
A strong, durable and flexible fiber
Superior traction even when the pitch is extremely wet
Shock absorption technology that decreases joint stress and increases safety
Give both your players and fans the ultimate gaming experience when you buy your new Football field from GreenFields. Let every player's skills shine through and create a superior spectator experience through the use of the cutting-edge technology that our sports field products deliver.
We are ready to talk to you today about your project. Contact us and let us show you how we can help increase player performance, improve their game and give your fans an experience that will leave them on the edge of their seats until the final second of the last down every single time for years to come.