THE WOVEN REVOLUTION 
---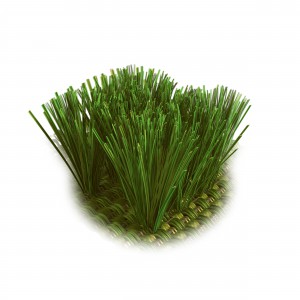 The most important innovation in the field of play since the invention of synthetic turf. GreenFields W-weave technology is so revolutionary, it's patented. Fibers are woven, not glued into backing, providing a host of great new benefits. Woven turf is superior to any tufted product, better than any other turf on the market.
As we explored the technology – we discovered ways to maximize the benefits of the weaving process. The result is the ultimate high performance turf – unmatched playability, durability, and safety. With a variety of fiber and stitching combinations, we offer woven products perfect for every sport.
POWERSPORT
The world's only synthetic turf engineered specifically for sports like soccer, lacrosse, and baseball, where ball behavior is critical. There are no "lanes", so foot release and ball roll are the same in all directions; fiber density and evenness provide more bounce; and players can kick (scoop) underneath the fibers.
POWERSPORT XP
---
Made with TenCate XP fibers
The world's strongest, most durable slit film
Unique fibers twist when played on, rather than lying flat
POWERSPORT Diamond
---
Exclusive TenCate diamond fibers
Wider and more durable than other monofilaments
Ribbed surface reduces glare
POWERSPORT Ultra
---
Blend of XP and Diamond fibers
Unmatched performance and durability
Varying fibers look and feel most like natural grass
IRONTURF™
---
Engineered for the demands of football and multi-sport fields. A rugged turf you can integrate with pad and infill system to create the ultimate field of combat. Reduced infill compaction and splash improves safety by providing consistent GMAX.
Blend of diamond and XP fibers
59 oz pile weight – denser construction
12-pic stitching for clean turf graphics
Select Woven Installations – USA
---
US Lacrosse Headquarters, MD
UNC Chapel Hill, NC
Boston University, MA
St. Julien Park, LA
Coastal Carolina Softball, SC
Broomfield County Commons Park, CO
Capital Area Soccer League, NC
Douglas County Parks, CO
Dojo Soccer, CA
Select Woven Installations – Global
---
Ockelbo IF, Sweden
N10 Corimbra, Portugal
Rynholec, Czech Republic
Manchester United, United Kingdom
Radcliffe School, United Kingdom
Levanger Fritidspark, Norway
Maxihallen, Sweden
Ranheim, Norway
Noblejas, Spain