GreenFields Signs Exclusive Distribution Agreement with Canada's Tapitec
GreenFields USA, one of the world's leading sports turf companies, has signed Quebec-based Tapitec as its exclusive distributor for Canada. The agreement will pair the industry's most innovative synthetic turf maker with Canada's leading sports-surface supplier and installer.
GreenFields' premium turf systems are favoured by college, high school and club teams throughout the Americas. GreenFields products, particularly its new woven turfs, have upended the synthetic turf industry and changed customer expectations around playability, durability and safety. In the Canadian market, GreenFields sought a distribution partner with a high level of technical expertise and a long-term reputation for quality. Tapitec proved to be the ideal choice.
"We were looking for one partner with the size, skill and agility to support very rapid growth in Canada," said GreenFields' President, Joe Fields. He continued, "Tapitec is by far the most impressive company in the market."
Tapitec sees the partnership as an opportunity to bring premium new technology to its clientele.  Alain Villiard, CEO of Tapitec, explained, "We have been very impressed with the product innovations GreenFields has introduced. Their turf technology is having a big impact in the U.S. and we are excited to bring those innovations to Canada."
The companies also signed a non-exclusive agreement for Tapitec to represent GreenFields in New York and New Jersey.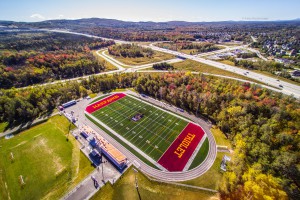 Football field at Ecole Secondaire le Triolet in Sherbrooke Quebec, Canada – installed by Tapitec in September 2017