The GreenFields Service Commitment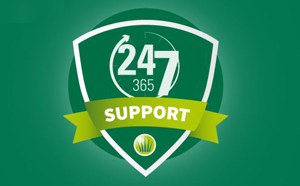 At GreenFields, we are committed to providing the most effective combination of high-quality products and superior customer service. As a GreenFields customer, you and the needs of your organization are our top priority. Being proactive is part of that commitment and we achieve that objective through constant contact throughout the building and manufacturing process and beyond.
Our dedicated and experienced customer support team is with you every step of the way, ready and able to provide answers to your questions, escalate concerns and implement timely solutions both via phone and, when necessary, onsite. We strive to resolve or implement a resolution to your concerns in just one call whenever possible. If you ever need to contact us for any reason, our dedicated and experienced representatives are there to answer all your inquiries in a manner that is timely and which exceeds your expectations.
Customer support
At GreenFields, our goal is to provide the customer with world-class support from representatives who are expertly trained, led and motivated. We believe that the end result of working with quality people and helping them achieve their own potential fits seamlessly with our commitment to the players, coaches and wider organizations that purchase and use our products.
R&D
Our product innovations are constantly setting new standards in quality of play and performance. Our motto, "Innovation inspired by nature," speaks of our commitment to developing the most natural-looking synthetic turf anywhere in the world. It is this commitment that has, in a relatively short time, catapulted GreenFields to amazing heights in the world of sport and has been the cornerstone for our success.
Design
Every project is planned by our technical design team to exacting standards in order to ensure precision installation. We design our sports field systems through the use of CAD / CAM technology to ensure that all the elements, when put together, form an immediately functional unit. This includes playing field, pathways, fences, lighting, drainage systems and sub-base turf systems that comprise it, to name a few.
Construction
Our Sports Construction Project Department has been developed as a means of providing superior support, communication and management throughout the process of building our artificial turf systems. Through our relationships with organizations such as FIFA and the UEFA, we have been able to further develop better project management strategies and provide vital turnkey solutions for organizations of various sizes and descriptions.
Installation
It isn't just about the turf or the infill or the shock pad. The quality of a synthetic turf system is determined by the know-how that goes into forming a single system out of each individual element. At GreenFields, this is our commitment and our passion: not just producing quality components, but producing quality, durable, sustainable components that work well together.
Maintenance
Even the best artificial turf requires routine maintenance to maintain peak performance and having the right equipment is key. This is why we at GreenFields place such a high priority on maintenance as a feature of the overall quality of our artificial turf systems.